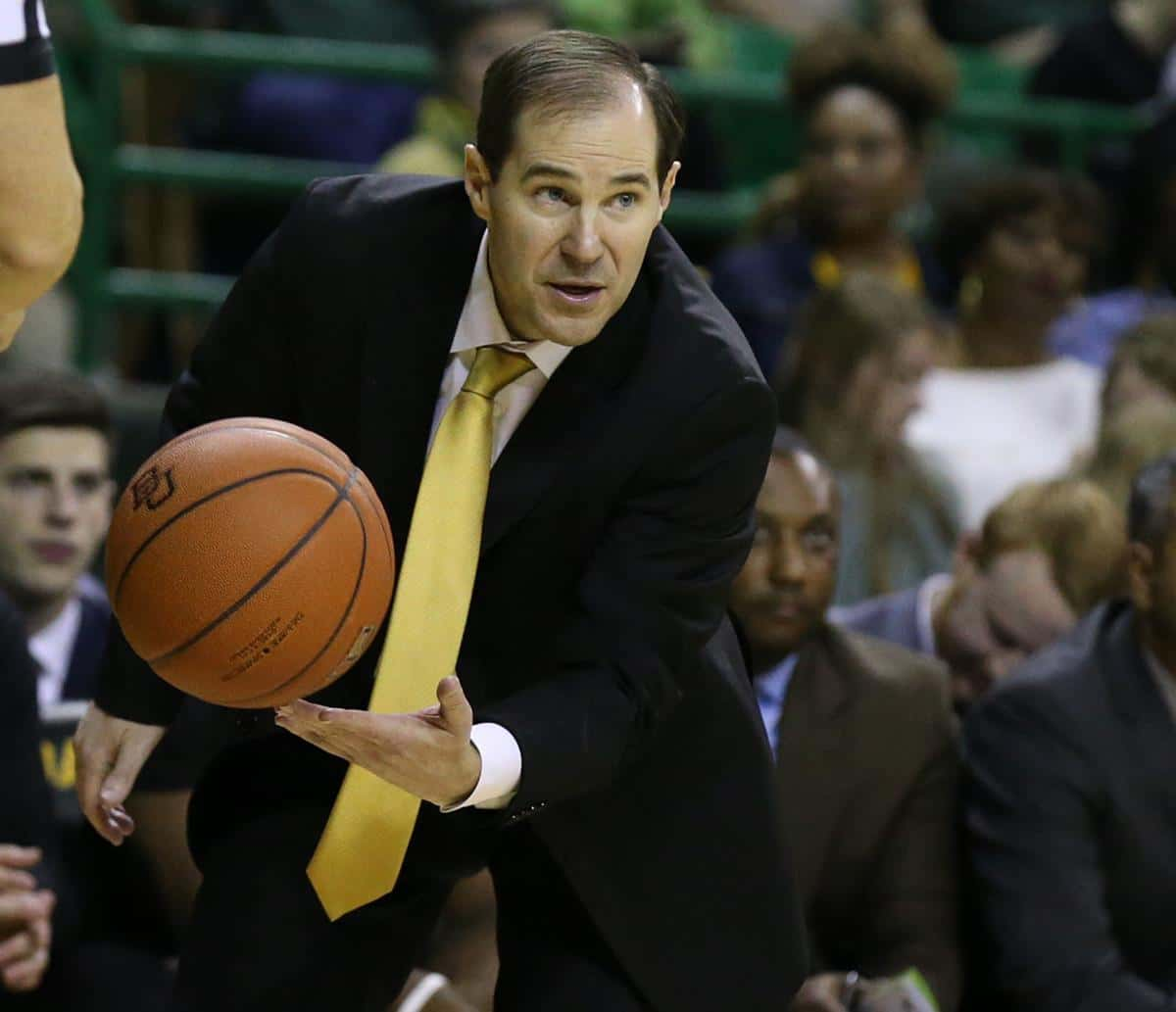 There isn't a more optimistic coach in college basketball than Scott Drew, so he did his best Sunday afternoon to put a positive spin on Baylor's rash of injuries this season.
Center Tristan Clark went down with a season-ending knee injury a month ago, but it got worse Saturday when senior guards Makai Mason and King McClure missed a 70-63 loss to Kansas State with injuries.
That's arguably the three best players on the team. But the misfortunes haven't deflated Drew's attitude.
"There's only one way to live and we don't know when it's coming to an end, so you want to make every day count," Drew said. "At the end of the day, we get to play basketball. It's not the toughest, it's not the hardest thing. It keeps you up when you lose. But at the same time it's a blessing and a privilege."
Drew was much more upbeat than after Saturday's loss to Kansas State when he said, "If you believe in Murphy's Law, I'd say we're not getting anybody back. But we'll find out."
The good news for the Bears is that Mason's toe injury and McClure's knee injury aren't expected to be long term. But it will be a game-time decision whether Mason and McClure play in Monday's quick turnaround against Oklahoma at 8 p.m. at the Ferrell Center.
Though the Bears (15-8, 6-4) have lost their last two games against Texas and Kansas State to fall two games behind the league-leading Wildcats in the Big 12 race, they still have a solid shot to make the NCAA tournament if they finish strong in their final eight regular season games. On Sunday, the Bears were 34th in the country in the NET rankings.
Beating the Sooners (15-9, 3-8) will be critical because the Bears' next two games are on the road against No. 18 Texas Tech on Saturday and No. 17 Iowa State on Feb. 19.
Drew expects a motivated Oklahoma team at the Ferrell Center after the Bears romped to a 77-47 win over the Sooners on Jan. 28 in Norman. That loss sent the previously nationally-ranked Sooners spiraling with a four-game losing streak, including Saturday's 66-54 loss to Texas Tech in Norman.
"At the same time, I know we're motivated because we're playing for a lot too," Drew said. "We're trying to get back to the winning ways, trying to compete for a championship, and trying to get to the NCAA tournament, so there's a lot of stuff we're playing for too."
In the 30-point blowout of the Sooners, the Bears got balanced scoring and played tremendous defense by holding the Sooners to a 27.3 shooting percentage while controlling the boards by a 39-32 margin.
The Baylor players expect the Sooners to make some changes in their game plan and to play more competitively in the rematch.
"Especially what we did to them at home, that gives them even more incentive playing against us," said Baylor guard Jared Butler. "I definitely think they're going to come out with more energy and more revenge-minded. I also think they're going to scheme against our zone a lot better because we played zone in that game a good bit."
— WACOTRIB